GCP Training in Kolkata for Google Cloud Engineer Associate Certification
Google Cloud Engineer Certification Training in Kolkata for Freshers and Working Professionals at best rate INR 14,950, which includes Hands On Lab, Project. AEM Institute in Kolkata offer free Resume Rewriting Service with GCP Training in Kolkata for your upcoming Google Cloud Interviews. You will get complete interview preparation materils completely free with this GCP Course in Kolkata.


GCP Training in Kolkata - Course Introduction
Are you a technology enthusiast who is passionate about Google cloud computing? Do you want to acquire knowledge and expertise in the Google Cloud Platform (GCP) to advance your career? Then, AEM Institute Kolkata is the best Place in kolkata for you. Kolkata is a hub of technology education, and with the advent of cloud computing, GCP has emerged as one of the most in-demand skills in the industry. AEM Institute Kolkata provides classroom and online GCP Training for Google Cloud Engineer Associate Certification Preparation in Kolkata. This comprehensive and hands on GCP training at lowest cost INR14,950 with 3 months duration make you exam ready for GCP Associate Cloud Engineers.
Why GCP Training is Important?
Cloud computing has revolutionized the IT industry by providing on-demand computing resources such as storage, processing power, and applications over the internet. The GCP is a suite of cloud computing services offered by Google that provides a secure, scalable, and cost-effective platform for hosting, managing, and analyzing data. With the increasing adoption of cloud computing, the demand for GCP professionals is also increasing. GCP training is important because it provides a solid foundation of cloud computing concepts, GCP services, and best practices for using them.
Kolkata is a major IT hub in India, and several institutes offer GCP training in the city. GCP training in Kolkata is designed to provide a comprehensive understanding of GCP services, deployment models, and best practices for using them. The training is delivered by experienced trainers who have hands-on experience with GCP.

GCP training in Kolkata is available in different delivery modes such as:
GCP Classroom Training in Kolkata
Classroom training is the traditional mode of learning, where you attend the training in a physical classroom with a trainer and other learners. Classroom training provides an interactive learning experience and the opportunity to network with peers.
GCP Online Training in Kolkata
Online training is a modern mode of learning, where you attend the training from the comfort of your home or office. Online training provides flexibility and convenience, and you can learn at your own pace.
GCP Corporate Training in Kolkata
Corporate training is a customized training program designed for organizations. The training is delivered at the organization's premises, and the curriculum is tailored to the organization's requirements.
Key Benefits
The best benefits you get with AEM Kolkata:
AEM Students are working globally
RedHat | TCS | Wipro | CTS | Accenture | Deloitte | Amazon | PWC | Ericsson and many more.....
Associate Cloud Engineer Exam Overview
Length of Examination: 2 hours
Registration fee: USD125 (plus tax where applicable)
Exam format: 50-60 multiple choice and multiple select questions
Certification Renewal / Recertification: Associate Cloud Engineer certification is valid for three years from the date of certification
---
Upcoming Class Schedule for GCP Training in kolkata, Bangalore, Pune, Hyderabad, Delhi, Mumbai, Chennai, Bhubaneswar, Patna.
| Start Date | Class Duration | Timing | Fees |
| --- | --- | --- |
| 27th August 2023 | 3 months | 9:30am-12:30pm [WeekEnd] | INR 14,950/- |
| 16th September 2023 | 3 months | 1pm-4pm [WeekEnd] | INR 14,950/- |
| 28th September 2023 | 3 months | 7:30am-9:30am [Tue-Thu] | INR 14,950/- |
| 3rd October 2023 | 1 month | 8am-10am [Mon-Fri] | INR 14,950/- |
For Customsed Class Schedule -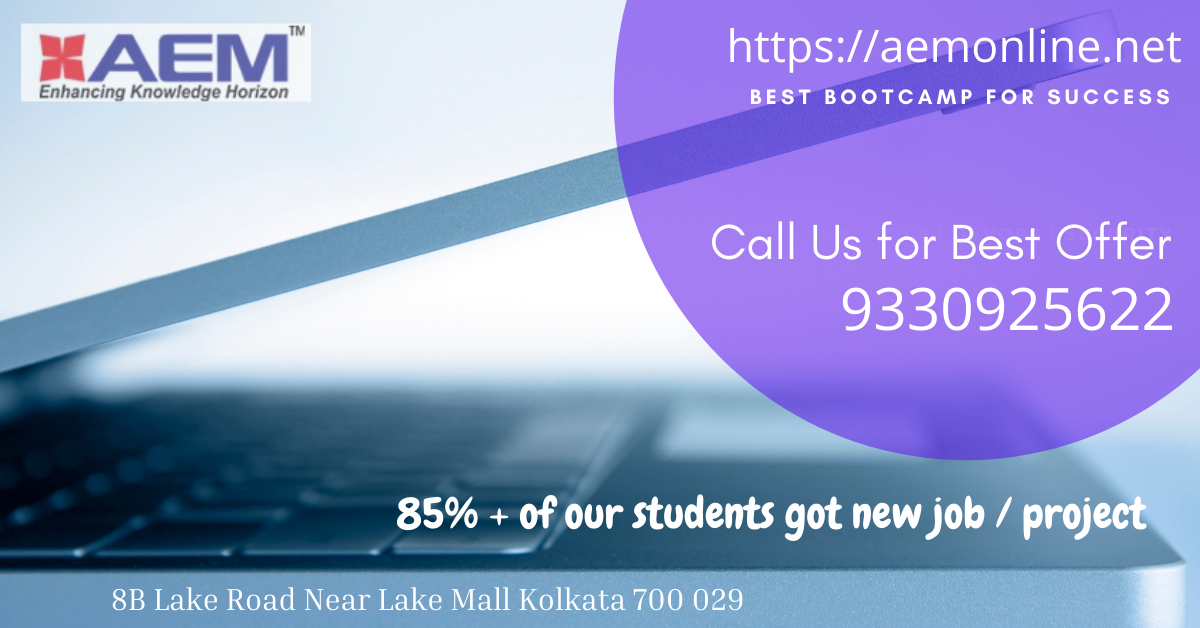 Benefits of GCP Training in kolkata
Be prominent in job market of Cloud Computing.
GCP has maximum penetration in Kubernetes and Docker enabled projects.
Reliable and faster implementation over cloud.
GCP has a more mature model of infrastructure in comparison to other cloud computing services.
GCP provides more job opportunities in latest technology domain.