Azure DevOps Training in Hyderabad for AZ-400 Certification Course
AEM Institute is One Of The Best Azure DevOps Training Institute in Hyderabad, Telangana for AZ-400 Certification course in Lower Cost with High quality hands-on online training. We provide end-to-end project based training and cv rewriting assistance with a special interview preparation session completely free for every learner.


Azure DevOps Training in Hyderabad - Course Introduction
Are you looking for a hands-on project based Azure DevOps Training in Hyderabad? Do you need to pass Azure DevOps AZ-400 Certification in Hyderabad with confidence? Then you are at right place. AEM Institute provides best project based hands-on Online Azure DevOps Training in Hyderabad, Telangana with high success rate. We have students from different locations in and around Hyderabad like Ameerpet, Dilsukhnagar, Kukarpally, S R Nagar etc. All Azure DevOps Training Batches are conducted online in WeekEnd and WeekDays in different slots. It is a complete interactive Instructor led 2-way online training where every student participates in Labs, discussions and question answer sessions. Students from different engineering colleges and IT Sectors in Hyderabad choose Azure DevOps online Training class. In our Azure DevOps Az-400 course we teach devops tools like GitHub, Azure Repo, Jenkins, Docker, Kubernetes on Azure (AKS) which is known as Azure Kubernetes Service and Terraform. Apart from training we also provide a guided project on DevOps.
Microsoft Azure DevOps Certification in Hyderabad for the AZ-400 Certification course offers a complete end-to-end course for DevOps with Lower and affordable course fees. This is the most suitable DevOps Course for learners willing to join as a DevOps Engineer with best salary packages in Cloud and DevOps Industry. Learners in AZ-400 certification training in Hyderabad with AEM Institute will get Free Tutorials and exam preparation resources for Azure Fundamental AZ-900 Certification as an added benefit with this course. Apart from that all materials for DevOps Interview Preparation provided completely free for every learner which help them to get best DevOps Jobs with high Salary Packages. Our Alumni secured 7.8L to 19L PA Salary Packages with 3 to 8 years of Working Experience as a DevOps Engineer having proper IT education background.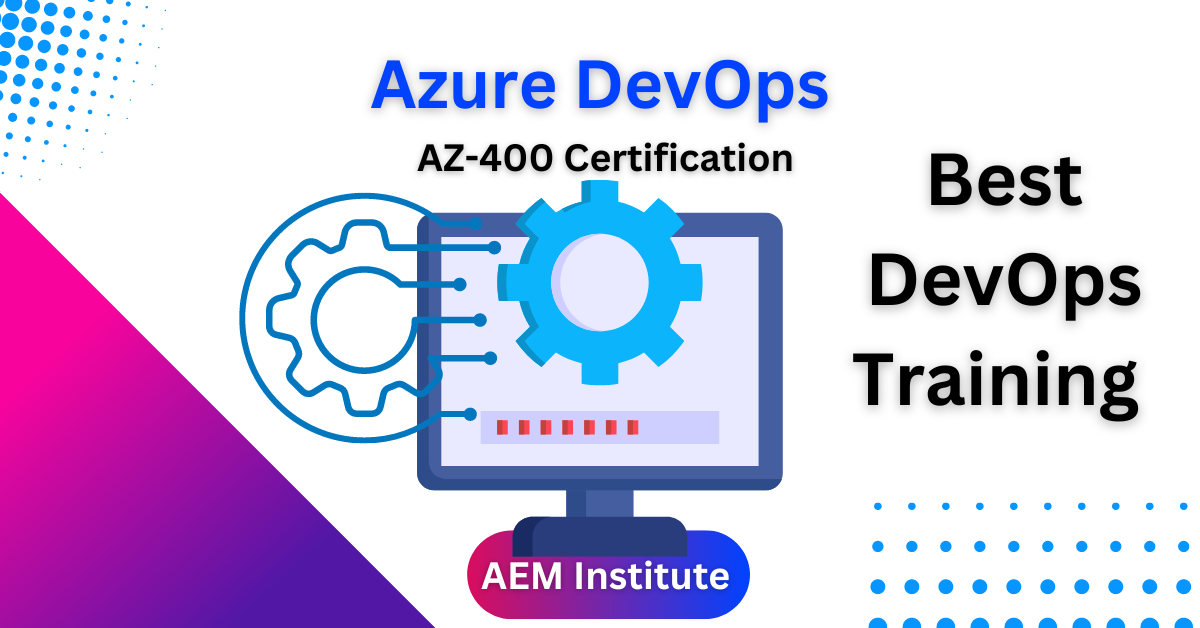 The course is designed by Microsoft and delivered by our Experienced DevOps Consultants who will demonstrate and help you to learn all the modules in-depth to make you clear the Microsoft Azure DevOps Certification AZ-400 exam and become a certified Azure DevOps Engineer. In this course, our trainers will make you proficient in version control, Jenkins, Azure DevOps Dashboard, IaC with Terraform, Creating build and release pipeline and all other relevant tools and technologies. The Azure DevOps Training cost in Hyderabad is INR 19,800 and discounts applicable time to time if available. This is the 30% lower fees for Azure DevOps Training in Hyderabad than other Institutes. You may contact AEM Institute for ongoing discounts for Azure Certification Training and Exam Vouchers.


Certification
Cost
Exam format
Microsoft Certified: DevOps Engineer Expert | Exam AZ-400
Training Cost: INR19,950 | Exam Cost: INR4800 Plus Applicable Taxes
150 minutes | 40-60 Questions
To become Microsoft Certified: DevOps Engineer Expert you have to complete any one prerequisite:
Microsoft Certified: Azure Administrator Associate
Microsoft Certified: Azure Developer Associate
and
you have to complete CERTIFICATION EXAM - Designing and Implementing Microsoft DevOps Solutions. Then you will be awarded Microsoft Certified: DevOps Engineer Expert
. After completion of Azure DevOps Certification in Hyderabad a candidate may expect DevOps jobs in companies like Tata Consultancy Services (TCS), Infosys, Wipro, Tech Mahindra, Cognizant, Accenture, IBM India, Oracle Corporation, Microsoft India Development Center (IDC), Deloitte, Capgemini, HCL Technologies, Amazon Development Center India, Google Hyderabad, Genpact, ADP (Automatic Data Processing), Cyient etc.
What you will get in AZ-400 Certification Training?
AEM Students are working globally ..
RedHat | TCS | Wipro | CTS | Accenture | Deloitte | Amazon | PWC | Ericsson and many more.....
Who can Join Azure DevOps Training in AEM?
Network Administrators
System Administrators
Project Managers
Consultants
Anyone interested in learning Azure Cloud Computing
Tools you will learn in Azure DevOps Training in Hyderabad:
Continuous Integration/Continuous Deployment (CI/CD)
Jenkins
Infrastructure as Code (IaC)
Terraform
Containerization and Orchestration
Docker | Kubernetes
Monitoring and Logging
Prometheus | Grafana
Version Control Hosting Platforms
GitHub | GitLab
Managed Azure Platform
Azure DevOps Organisation Dashboard
Topics covered in Azure DevOps Training course in Hyderabad: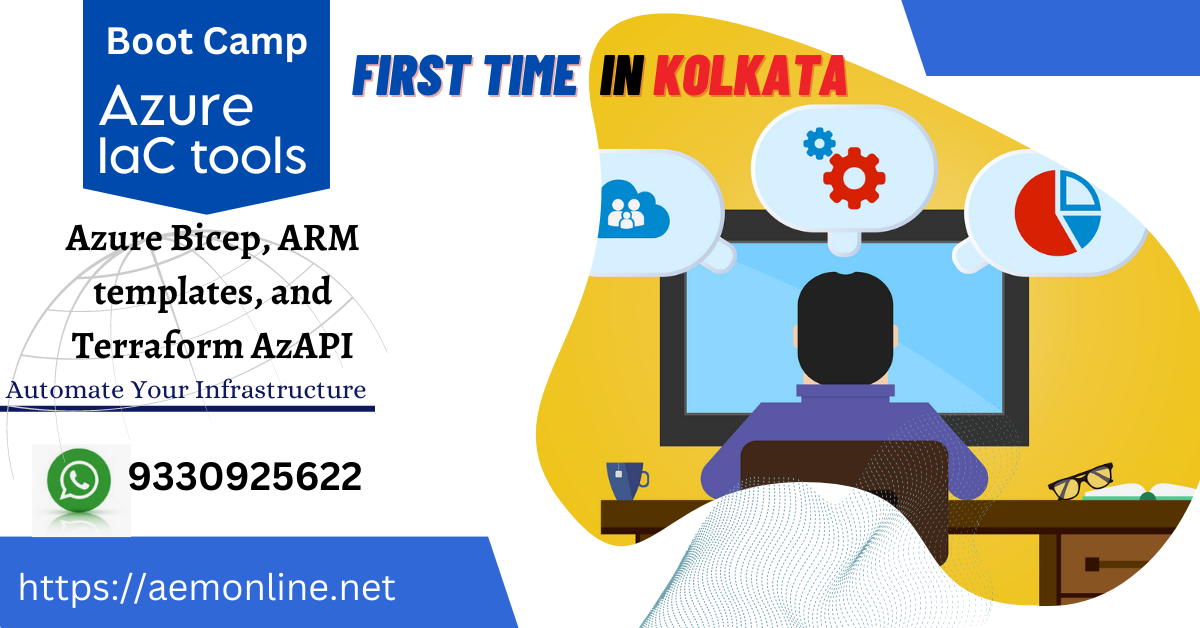 Some Tips for getting Azure DevOps Job in Hyderabad:
Learn Azure DevOps Tools
Acquire knowledge of various tools and services offered by Azure DevOps, such as Azure Pipelines, Azure Boards, Azure Repos, and Azure Artifacts. Understand their purpose and how they are used in software development projects.
Gain Hands-on Experience
Practice using Azure DevOps tools by working on personal projects or contributing to open-source projects. This practical experience will help you understand the practical aspects of using Azure DevOps and build a portfolio to showcase your skills.
Learn Scripting and Automation
Develop proficiency in scripting languages like PowerShell, Bash, or Python. Automation plays a crucial role in Azure DevOps, so having scripting skills will be beneficial for managing infrastructure, deployments, and other repetitive tasks.
Obtain Relevant Certifications
Consider earning certifications related to Azure DevOps, such as Microsoft Certified: Azure DevOps Engineer Associate or Azure Administrator Associate. These certifications validate your knowledge and demonstrate your commitment to professional growth in Azure DevOps.
Build a Strong Online Presence
Create a professional profile on platforms like LinkedIn and GitHub. Showcase your projects, contributions, and skills related to Azure DevOps. Engage with the DevOps community by joining relevant forums and participating in discussions.
Apply for Junior/Entry-Level Positions
Look for job openings specifically targeting junior or entry-level Azure DevOps positions. Tailor your resume and cover letter to highlight your Azure DevOps skills, certifications, and any relevant experience you have gained. Network with professionals in the industry and leverage any connections you have to increase your chances of getting an interview.
---
AZURE DevOps Training in Ameerpet, Dilsukhnagar, Kukarpally, S R Nagar Hyderabad - Upcoming Class Schedule:
| Start Date | Class Timing | Course Fees | Course Duration |
| --- | --- | --- | --- |
| 9th July 2023 | 10am-1pm [Week End] | INR19,950 | Four Months |
| 17th July 2023 | 9am-11pm [Mon To Fri] | INR19,950 | One Month |
| 30th July 2023 | 10am-1pm [Week End] | INR19,950 | Four Months |
| 8th August 2023 | 8pm-10pm [Tue & Thu] | INR19,950 | Two Months |
| 21st August 2023 | 8pm-10pm [Mon & Fri] | INR19,950 | Two Months |
No Cost EMI Facility is available for Azure DevOps Training in Hyderabad.
Need more Help? Feel Free to contact us -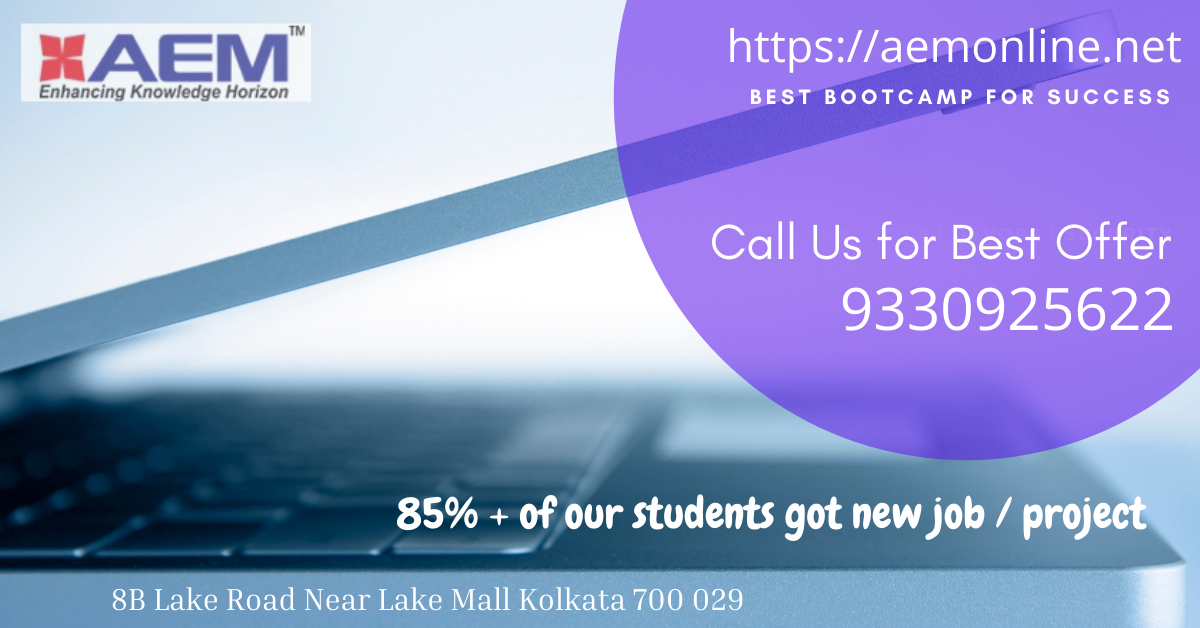 Other Popular Azure Courses in Hyderabad from AEM Institute :

What are the Benefits of Learning Azure DevOps AZ-400 Certification in Hyderabad with AEM?
DevOps is quite a very new concept in the industry and more and more companies are deploying DevOps practices.
You learn to work in a team consisting of cross-functional team members—QA, developers, operation engineers, and business analysts with Azure DevOps Certification Training.
Azure DevOps Engineer training is equipped with all the needed expertise that are required in all phases of product development life cycle. Organizations are also training their existing staff as well in DevOps to fill any skill gaps.
The average starting salary of a Azure DevOps Engineer is expected to be around 7.5 Lakhs per Annum to 9.7 Lakhs per annum. This keeps increasing as one gains expertise and experience in Azure DevOps.
Azure DevOps experts should be able to adopt to the new tools as well as with the advanced technologies and growing needs of business.
Azure DevOps Az-400 Training FAQs