AWS Training in Kolkata for
Solutions Architect Associate(SAA-C03) Certification Examination
AEM provides the best AWS Training in Kolkata to make you ready for AWS Solutions Architect Associate Certification SAA-C03 in Kolkata with our exam readiness sessions and free mock test series. AEM Institute Kolkata have more than 98.8% Completion Rate in AWS Training and Boot Camps organised in Kolkata and via Online Live Classes.

How to become an AWS Solutions Architect in Kolkata?
If you are looking for the best AWS Course in Kolkata which will make you confident to attempt AWS Solutions Architect Associate Certification you are in the right place. AEM Institute provides the best cost effective and hands-on amazon Cloud Computing Training in Kolkata for AWS Solutions Architect Associate Certification SAA-C03. This is the best choice for a beginner or working professional looking for an AWS Cloud Job. AWS certification in Kolkata syllabus is designed by AWS experts with over 15+ years of experience. This AWS course in Kolkata curriculum will help you master key concepts of AWS such as IAM, EC2, S3, VPC, Lambda, RDS, DynamoDB, CloudWatch etc. You can prepare for the AWS Certified Solutions Architect - Associate exam (SAA-C03) once joined in our AWS Training and Certification program in Kolkata. After training at AEM Institute, we used to schedule an exam date and aws exam center in Kolkata for all the students. There are a good number of aws cloud job openings in Kolkata, Bangalore, Hyderabad, Chennai, Delhi, and companies like TCS, Accenture, CTS, Wipro, HCL are looking for Certified AWS Solutions Architects for AWS Cloud Jobs. Enrol now in our AWS course in Kolkata to become certified AWS Cloud Engineer with confidence.
AEM Institute offers low cost AWS Training in Kolkata with No-Cost EMI Facility to learners. Cost of AWS Solutions Architect Associate Training in Kolkata is INR 14950 which includes training, Hands on labs, projects, free AWS Interview preparation sessions, complementary resume rewriting service for your upcoming aws job interviews and free practice tests for attempting AWS Certification exam. AEM Institute is one of the Top most reliable AWS Training institutes in Kolkata as per success records since more than 8 years. AEM Institute conducts AWS Corporate Training batches both in Online and Classroom mode. There are discount options for AWS group training and AWS corporate training batches.
In our AWS Solutions Architect Associate Certification course in Kolkata we provide best project based learning with full guided AWS Training in the Kolkata AEM office. We provide classroom AWS Training in Kolkata and AWS Training Online in Kolkata. By assembling a portfolio of AWS projects, you can demonstrate your skills and experience to potential employers which will lead you to grab the best aws jobs in India as per your background. This aws certification course is one of the most valuable course for beginners who are from different IT background but looking for an entry into AWS Jobs because this AWS Solutions Architect Associate Certification Training provide a detailed ideas for AWS components and services like EC2, S3, EBS, ECS, Cloud Watch, Lambda Functions, Migration of servers and data into aws cloud.

What are key Benefits joining AWS Solutions Architect Associate Training in Kolkata AEM?
The best benefits you get with AEM Kolkata:
After Successfull completion of AWS Training in kolkata our Students are working globally
AEM students either changed existing jobs or projects in some of the reputed MNC like RedHat | TCS | Wipro | CTS | Accenture | Deloitte | aws | PWC | Ericsson and many more.....
What are the Topics covered in AWS Solution Architect Associate?
Sometimes you may have questions in mind that "Do I need to pass AWS Cloud Practitioner certification before attending AWS Solutions Architect Training?" The answer is NO. It is not mandatory but if you have already done it may help you to understand concepts in AWS Solutions Architect Associate Training. Moreover in our AWS Training class we cover AWS Cloud Practitioner certification Topics completely free. AWS Cloud Practitioner Certification Training in Kolkata is offered completely free of cost only in AEM Institute Kolkata with AWS Solutions Architect Training Online.
Looking for some
real Interview Questions
from AWS Training in kolkata AEM?
Click Here.
How to select which aws training and certification in Kolkata is best for me?
Every aws training and certification has its own set of learning domain and hands-on labs. Selection of most suitable aws training and certification depends on some factors. Here you can get top 7 points to select aws training and certification online.
Asses your own background. If you are coming from Non Cloud IT Services like Operations, Support, Backup AWS Solutions Architect is best choice.
If you are coming from Non Cloud IT Services like application development you can opt for AWS Developer Associate Certification Training.
For those who are coming from System administration background or worked as Network Engineer in Telecom Sector AWS Solutions Architect is the first choice to change their current job profile.
It is true that there are plenty of AWS Jobs in India but if you look into the real situation there are still shortage of skilled manpower with Hands-On experience. So you must be carefull about the course and must join with Institute which offer 100% Hands-On Training and Project.
If you are B.Tech in ECE, EE or B.Tech from other Non IT Stream AWS Solutions Architect Associate Certification Training would be the best choice.
Do some reaearch in Internet and specifically look into the JD which is being asked for AWS JOBS, it will give you some ideas.
If you have still any confusion you can WhatsApp us, Our experienced trainer may connect with you and help you to choose best aws certification as per your profile.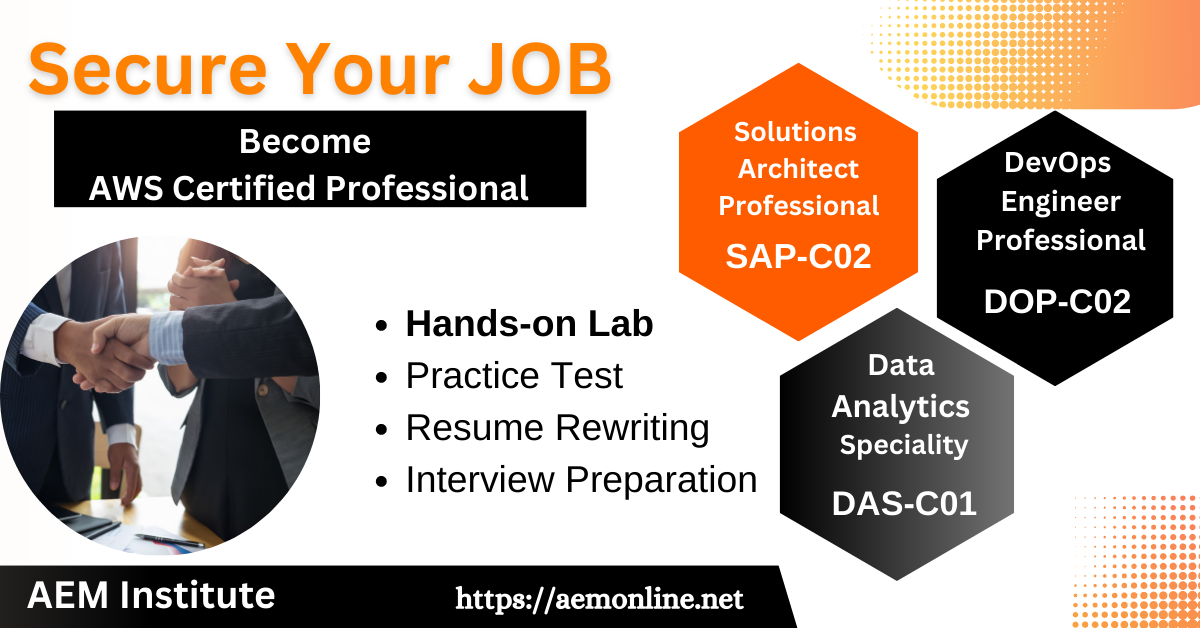 ---
AWS Solutions Architect Associate Certification Course [SAA-C03] - Upcoming Class Schedule in kolkata, Bangalore, Pune, Hyderabad, Delhi, Mumbai, Chennai, Bhubaneswar, Guwahati, Agartala, Patna.
| Start Date | Class Duration | Timing | Course Fees |
| --- | --- | --- |
| 25th November 2023 | Three Months | 10am-1pm [Week End] | INR 14,950/- |
| 3rd December 2023 | Three Months | 1pm-4pm [Week End] | INR 14,950/- |
| 14th December 2023 | Three Months | 8am-9:30am [Tue & Thu] | INR 14,950/- |
| 23rd December 2023 | Three Months | 1pm-4pm [Week End] | INR 14,950/- |
| 5th January 2024 | Three Months | 7pm-8:30pm [Mon & Fri] | INR 14,950/- |
| 14th January 2023 | Three Months | 10am-1pm [Week End] | INR 14,950/- |
Need customised Training Schedule?
What ate the Benefits of Learning AWS Solutions Architect?
As far as the cloud computing market is concerned, AWS is the ultimate leader. So getting a well-paid job in this field would never be a problem after you complete training from AWS Training in Kolkata AEM classroom.
AWS Solution Architect Associate Certification will make you industry ready cloud professional.
You will learn skills associated with AWS Cloud.
AWS Solution Architect Associate is among Top 10 Cloud Certifications in 2023
AWS provides more job opportunities than other cloud providers.
AWS Training in kolkata | FAQs::