AWS Machine Learning - Specialty Training in Kolkata for MLS-C01 Certification.
AEM Institute Provides the Best Machine Learning Training in Kolkata for AWS Machine Learning Certification with MLS-C01 exam preparation. This AWS Machine Learning Course includes 100% Hands On lab to make you confident to build machine learning or deep learning workloads in the AWS Cloud. This Machine Learning Certification is provided at low cost in Kolkata with no-cost EMI facility. A students will also get free resume rewriting service and interview preparation materials with this ML Course.
AWS Machine Learning Speciality MLS-C01 Certification Course Introduction:
If you are a Data Science professional or Data Analyst and looking for a rewrding career in Machine Leaning with AWS Cloud then you must look into AEM Institute in Kolkata. AEM Institute Provides AWS Machine Learning classroom training and online live training which will make you confident to attemt MLS-C01 certification exam in Kolkata.
The machine learning job market is poised for significant growth in the near future. As organizations increasingly rely on data-driven insights, the demand for machine learning experts will soar. Roles such as machine learning engineers, data scientists, and AI researchers will be in high demand across various industries, offering lucrative opportunities for professionals skilled in this field. Keeping up with evolving technologies and trends will be essential for success in this dynamic job market.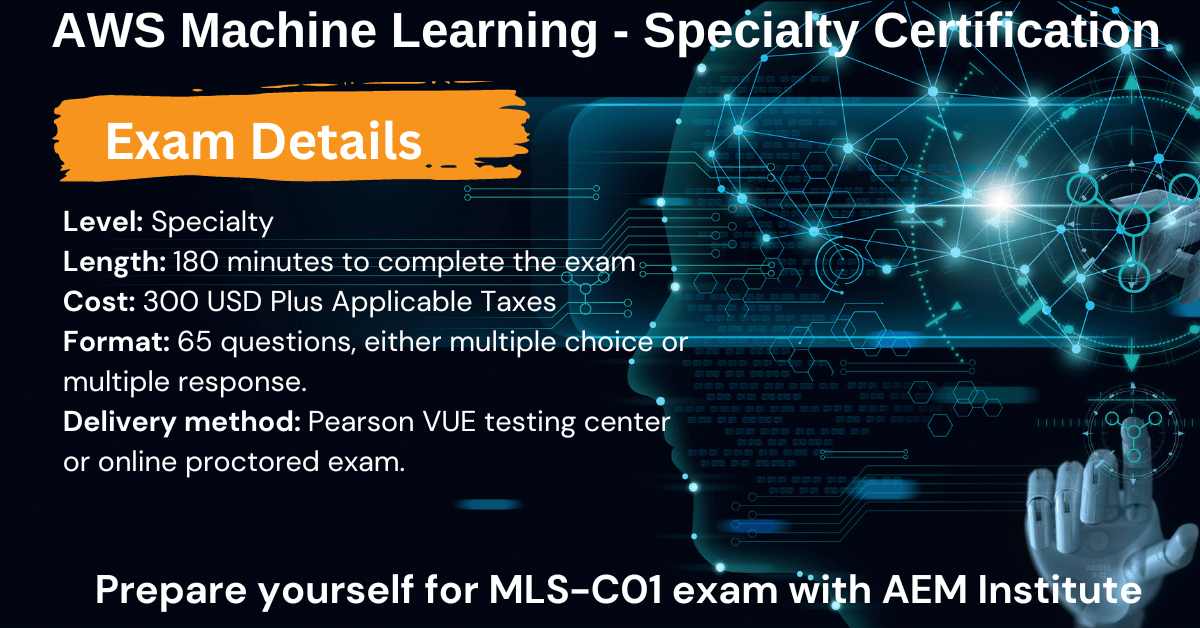 MLS-C01 certification Exam Learn Domain
This course will teach you professionals skills to: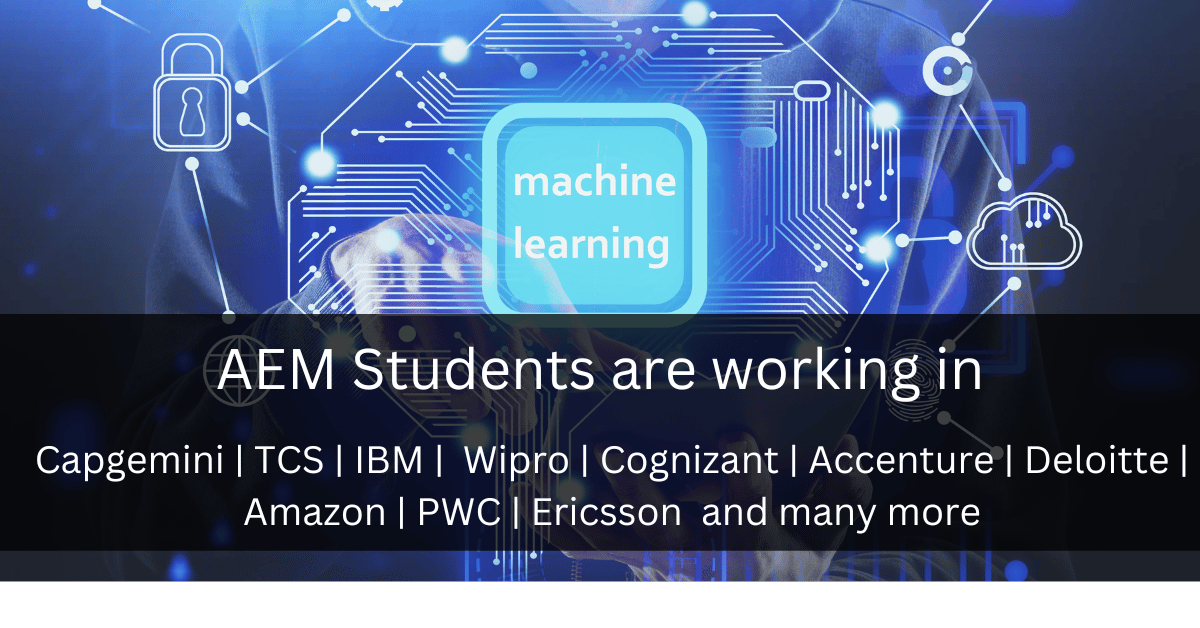 AWS Machine Leaning Certification exam MLS-C01 Details
Overview of MLS-C01 exam:
Level: Specialty Level Examination
Length: 180 minutes total time.
Cost of MLS-C01 exam in Kolkata: 300 USD plus applicable taxes.
Format: 65 questions; either multiple choice or multiple response.
Delivery method: Pearson VUE testing center or online proctored exam.
The exam validates a candidate's ability to complete, select and justify the appropriate ML approach for a given business problem and provide a solution with appropriate AWS services to implement ML solutions. There are two types of questions on the exam:
Multiple choice: This types of questions has one correct response and three incorrect responses
Multiple response: This types of questions has two or more correct responses out of five or more response options
AEM Institute provides AWS Machine Leaning Certification Training in Kolkata with Low cost INR 24,950 which can be payable with no-cost EMI options. This AWS Machine Learning Course in Kolkata includes free resume rewriting service and ML interview materials for your upcoming Machine Learning Jobs. If you are looking for the best AWS Machine Leaning Training in Kolkata AEM Institute is the perfect cost effective and top quality Machine Learning training institute in Kolkata.
AWS Machine Learning Speciality Training Topics Covered: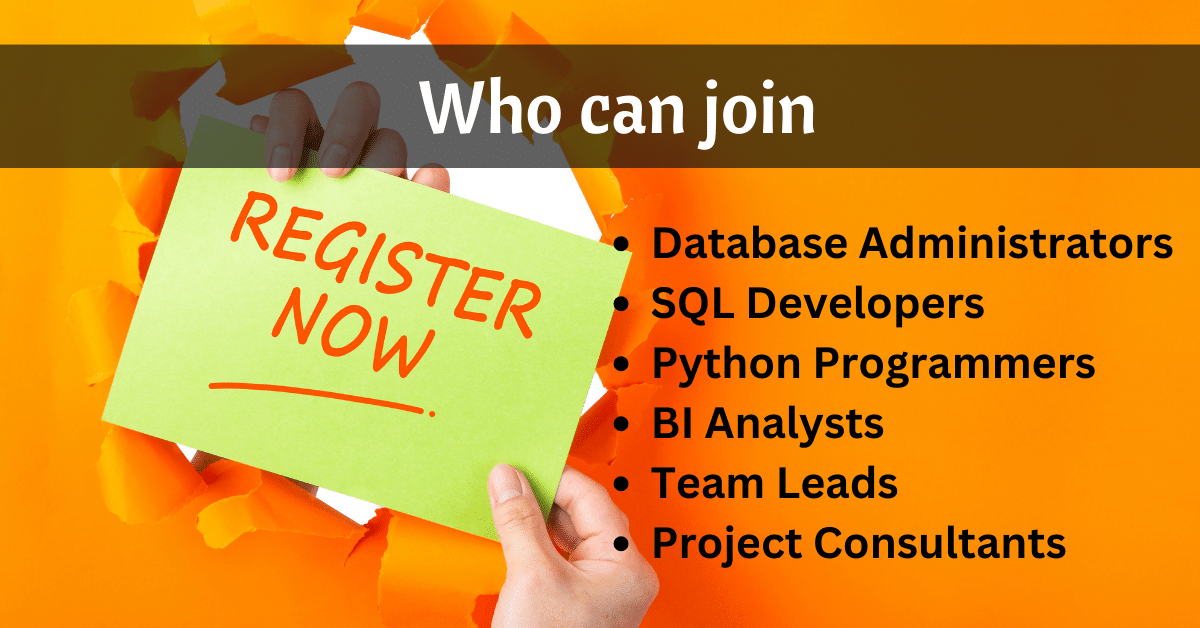 AWS machine learning certification preparation - A deep dive into SageMaker, generative AI, data engineering, modeling & more
Do you have concerns about passing the AWS Certified Machine Learning - Specialty (MLS-C01) exam? This Machine Learning Certification exam is tough but AEM Institute is here to assist you. Our tried-and-true training methods will give you complete confidence in attempting this crucial certification. Each learner will get sufficient hands on lab and mock tests to prepare for this certification. Our special Machine Learning exam preparation session is the key for your success.

What are some real-world applications projects of AWS machine learning?
Some examples of AWS Machine Learning projects a student undertake with AWS Machine Learning Course in Kolkata:
Customer Churn Prediction: Build a model using AWS SageMaker to predict customer churn based on historical data, enabling businesses to take proactive measures to retain customers.
Image Recognition for Healthcare: Develop an AWS ML model that analyzes medical images (e.g., X-rays) to detect abnormalities and assist healthcare professionals in diagnosis.
Recommendation Engine: Create a recommendation system using AWS Personalize that suggests products, movies, or content to users based on their preferences and behavior.
Natural Language Processing (NLP) Chatbot: Build a conversational chatbot using AWS Lex and Lambda that understands and responds to customer queries, enhancing customer support.
Anomaly Detection in IoT Data: Utilize AWS IoT Analytics and ML services to identify anomalies in sensor data from IoT devices, enabling predictive maintenance and fault prevention.
Sentiment Analysis for Social Media: Develop an AWS Comprehend-based application that analyzes social media posts to gauge public sentiment about a brand or product.
Predictive Maintenance for Manufacturing: Implement an AWS ML solution that predicts when industrial machinery needs maintenance, reducing downtime and maintenance costs.
Fraud Detection: Create a fraud detection system using AWS Fraud Detector that analyzes transactions in real-time to identify potentially fraudulent activities in financial transactions.
Inventory Optimization: Use AWS Forecast to build a demand forecasting model that helps retailers optimize inventory levels and reduce overstock or stockouts.
Voice Recognition: Develop a voice-controlled application using AWS Polly and Transcribe that converts spoken language into text and performs actions based on voice commands.
Energy Consumption Forecasting: Use AWS SageMaker to build a model that forecasts energy consumption patterns, helping energy companies optimize power generation and distribution.
Automated Resume Screening: Employ AWS Textract and Comprehend to automate the screening of job applicants' resumes, matching candidates to job requirements.
---
AWS Machine Leaning Speciality MLS-C01 Certification Training - Upcoming Class Schedule in Kolkata, Bangalore, Pune, Hyderabad, Delhi, Mumbai, Chennai, Bhubaneswar, Guwahati, Agartala, Patna

| Start Date | Class Duration | Timing | Course Fees |
| --- | --- | --- |
| 23rd September 2023 | Four Months | 1pm-4pm [Week End] | INR 24,950/- |
| 1st October 2023 | Four Months | 10am-1pm [Week End] | INR 24,950/- |
| 12th October 2023 | Four Months | 9pm-10:30pm [Tue & Thu] | INR 24,950/- |
| 7th November 2023 | Four Months | 7:30am-9am [Tue & Thu] | INR 24,950/- |
For customised class schedule -