AEM Institute Kolkata - Your Learning Partner for TOP Cloud Computing | DevOps | Data Analytics | Artificial Intelligence Training in Kolkata.
We provide AWS, Azure, GCP Courses (Solutions Architect | DevOps Engineer | Security Architect), Kubernetes CKA, Terraform Associate, RHCSA, RHCE, Data Science, Data Analytics, Machine Learning & AI Training in Kolkata Classroom and Online Live Class.
Since 2004, AEM Institute has kept its title as the top IT Training institute in Kolkata for a wide range of global certifications. AEM offers affordable AWS training in Kolkata from AWS Associate certification to AWS Speciality Certifications. Consider our Azure Administration Certification Training if you're searching for the best Azure training in Kolkata. For AWS DevOps Engineer Certification Course and Azure DevOps Engineer Training in Kolkata AEM Institute is the most favourable DevOps Training Institute in Kolkata for IT professionals. Our offline DevOps Training in Kolkata includes Linux Basics and essential devops tools like GitHub, Jenkins, Docker, Kubernetes, Ansible and Terraform. We arrange classes for DevOps Professionals looking for Certified Kubernetes Administrator training (CKA) and HashiCorp Certified: Terraform Associate (003) training with exam preparation sessions which help our students to pass global certifications more easily.
AEM Institute offers Data Science course and Data Analytics Training in Kolkata for global certifications like Designing and Implementing a Data Science Solution on Azure, Data Engineering on Azure, AWS Data Analytics - Specialty, AWS Machine Learning - Specialty course. If you are looking for Power BI Training in Kolkata AEM Institute will be your right place. Our Python for Data Analyst and certification training is another milestone training for freshers who are looking for a data science job in Kolkata. AEM Institute provides offline MLOPS and Artificial Intelligence course Training on Azure and AWS Cloud for freshers and Professionals.
Top Cloud Computing, DevOps, Data Analytics, Machine Learning Courses in Kolkata AEM Institute: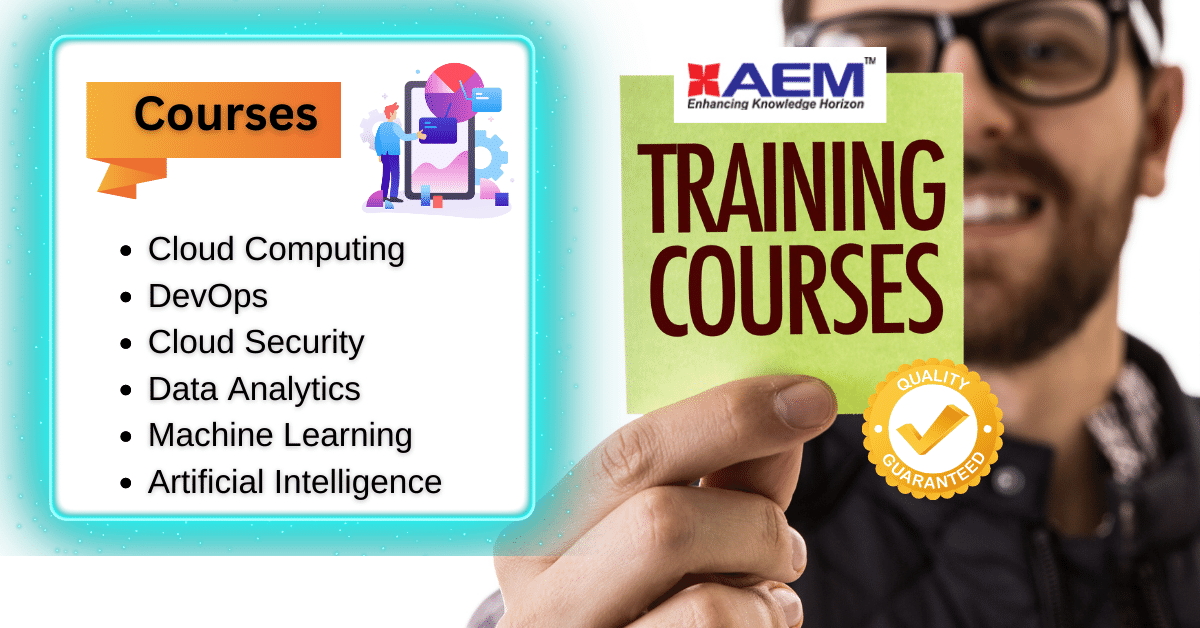 We provide offline classes for AWS and Azure courses training in Kolkata to IT beginners and working professionals. There are multiple offline classroom batches in WeekEnd and Weekdays. AEM Institute has courses on the most recent technologies including projects, free resume rewriting, free interview preparation resources, and job search aid. We make no job guarantees for any of our mentioned courses. Thanks to our careful and tried-and-true approach, a student can attain the requisite level of Technical proficiency required for a relevant job. Every course includes free access to our interview preparation materials, which are constantly updated and developed by professionals to assist learners in feeling confident before attending job interviews.
Best AWS training and certification in kolkata with above 96% Success Rate in 2022-2023.
AEM Institute provides best AWS offline Training in Kolkata with low training cost starting from INR7500. Our AWS courses in Kolkata covers various AWS Certification Training like AWS Cloud Practitioner, AWS Solutions Architect Associate exam (SAA-C03), AWS Solutions Architect Professional exam (SAP-C02), AWS DevOps Engineer - Professional exam (DOP-C02), AWS Data Analytics – Specialty exam (DAS-C01), AWS Machine Learning - Specialty exam (MLS-C01) and AWS Security Speciality exam (SCS-C02) Certification. AEM Institute provides completely free of cost AWS Cloud Practitioner Training in Kolkata with any AWS Associate and AWS Professional Certification course in Kolkata classroom.
Our Azure Training in Kolkata has gained a significant reputation and popularity among freshers and professionals. In our Azure Training courses we have azure fundamentals certification (az-900) Training and azure administrator az-104 Certification Training. we have courses for Azure Solutions Architect (az-305), Cybersecurity Architect Expert (SC-100), Azure DevOps Engineer (az-400), Azure Security Engineer Associate (az-500) and Azure Data Engineer (DP-203), Azure Data Scientist Associate (DP-100), Azure AI Engineer Associate (AI-102). Offline Azure certification training facility in Kolkata training center classroom located at Rashbehari Avenue near Lake Mall, Kalighat metro station in kolkata.
Top 7 reasons to select AEM Institute in Kolkata?
Providing best quality Global Certification Training Since 2004
You will get 100% Hands On Lab and Projects with industry experts.
We Provide Resume rewriting and Interview preparation materials.
Best Success Rate in Global Certification in Kolkata.
Experienced Trainers and Top Consultatns from Industries will guide your carrer.
Proven Track records that our students are working in Reputed MNC since 2004.
AEM Institute provides offline classes for Cloud, DevOps, DevSecOps, MLOps and Artificial Intelligence in Kolkata.
Top Cloud Computing courses in AEM Kolkata.

You will get the finest RHCSA Training in Kolkata in AEM Institute. We provide RedHat Certified System Administrator (RHCSA) certification training on RHEL9. This is the best linux administration training to start with. One who has completed RHCSA Certification can take RedHat Certified Engineer (RHCE) Training in Kolkata for Advanced automation knowledge. This RHCE course in Kolkata will make you hands on with ansible automation. AEM Institute provide 100% hands on lab and practice which will make you more confident for RHCSA certification exam.
AEM Institute provides DevOps Training and also provide Certification training for Terraform Associate. Our Terraform certification course in Kolkata is for devops engineers who want to master IaC Tool Terraform. Apart form that another in demand certification "Certified Kubernetes Administrator (CKA)". The Certified Kubernetes Administrator exam is well-known for its difficulty. Unlike many technical certification tests, which feature a multiple-choice format, the CKA is totally hands-on. Candidates demonstrate their real-world Kubernetes expertise by completing tasks at the terminal. We have special examination preparation session for CKA and after attending our CKA certification training labs you will get a clear ideas how to attempt CKA Certification examination with a higher confidence level.
We provide offline classes at our Kolkata office located at Rashbehari Avenue near Lake Mall, Kalighat Metro Station and about 3 minutes walking distance from metro station. We provide online Cloud, Devops, AI ML Training all over India, US, UK. We have online class support for Delhi, Mumbai, Bangalore, Pune, Chennai, Bhubaneswar, Guwahati, Agartala, Patna, Hyderabad and kolkata and all major cities in India. Our online sessions are live instructor led two way interactive followed by in-class lab exercises, quiz sessions and case study discussions. You will get your own live class fully recorded session once it is completed. AEM Institute prepares a student confident in related skills for upcoming job interviews.
Frequently asked questions | FAQs::
Do you provide any course for IT Fresher?
Yes, we have multiple cloud computing and data analyst courses for any IT fresher. It is always suggested that you take a free counselling session with us and find out the most suitable course for your better career. It can be a Cloud Administration, DevOps, Data Analytics role or a cloud security engineer role.
What is the best data analytics course in Kolkata?
AS a data analyst you may have multiple options. You can opt for AWS Data Analytics Speciality or Azure Data Scientist Associate based on your preference. If you are new in data analytics field and yet to start with ETL, you may choose BI solutions training program with AEM Institute.
Do you provide any placement Assistance?
Yes. AEM Institute provides 100% placement assistance with free resume rewriting service, Interview preparation materials with every course so a student become more confident to attain job interviews. As one of the TOP Cloud Computing Training institute in Kolkata AEM Institute has a track recored of success rate more than 98.5% in certification. AEM Institute's students have already achieved more than 85% of success rate in Interview for DevOps and Data Analytics JOB in Kolkata. AEM Students are working in TOP companies like Capgemini | TCS | Wipro | Cognizant | Accenture | Deloitte | Amazon | PWC | Ericsson | Infosys and many more.....
AWS vs Azure which is the best certification for cloud computing jobs in Kolkata as a fresher?
As a fresher if you are looking to enter the cloud computing job market in Kolkata, both AWS (Amazon Web Services) and Azure (Microsoft Azure) certifications can be valuable and have their merits. Both AWS and Azure are leading cloud service providers and have a significant presence in the IT industry. Additionally, you may consider factors like the background knowledge of OS like Linux or windows for studying the certifications, the cost of exams. If you are comfortable in Linux Operating system basic commands you may opt for AWS Certification Training in Kolkata otherwise if you are comfortable with windows knowledge like basics and active direcory concepts Azure Certification training in Kolkata may be your perfect choice. As per salary point of view as a freshers both are almost same.
Where is the best place to learn DevOps in Kolkata?
If you are a seasoned developer or from IT infrastructure resource in your organisation and looking for a career change in DevOps, AEM Institute is the Top Institute for DevOps training in Kolkata. There are AWS DevOps course for AWS Cloud engineer and Azure DevOps course for those who are comfortable with microsoft or azure technology. This is the most valued devops course in Kolkata for best cost effective DevOps training. With both devops training course in Kolkata AEM you will get free resume rewriting service and exam readyness sessions free of cost to help you clear devops certification exam in Kolkata.
Which training institute is best for data science in Kolkata?
If you are considering data science as a career you are at right place. AEM Institute is the best Data Science Training Institute for AWS Data Science Course and Azure Data Science Course in Kolkata at lowest price. Data Science Course in AEM Institute Kolkata offer lowest price gurantee in Global Certification Training program for AWS Data Science and Azure Data Science Training in Kolkata with facilities to achieve globally recognised data science certification from Amazom or Microsoft after passing respective global Data Science certification exam. The data science training in Kolkata AEM will make you comfortable to create Machine Learning Applications with Cloud Tools which is the most in demand skills for any data science job in Kolkata.
I am form Bangalore, How can I attend training in AEM Kolkata?
AEM Institute in Kolkata have regular online live Instuctor Led Training Classes on Several Certifications. We Provide Online training class as per our published schedule which is available in our ciurses pages. We provide online Training all over India, US, UK. We have online class support for Delhi, Mumbai, Bangalore, Pune, Chennai, Bhubaneswar, Guwahati, Agartala, Patna, Hyderabad and Kolkata and all major cities in India.